You can find tons of articles for Career Advice in Biochemistry, Biotechnology and other life sciences branches and we don't want to repeat them. There is no doubt that enormous growth can be achieved by a dedicated researcher or student.
The thing is that what should be the plan by a Indian student to excel in this field. You cannot find much information on the internet about how to frame your career advice or "what next". Here we are going to explain the Career Advice for planning in life sciences or biotechnology.
First we describing the Indian life science education after then we go further.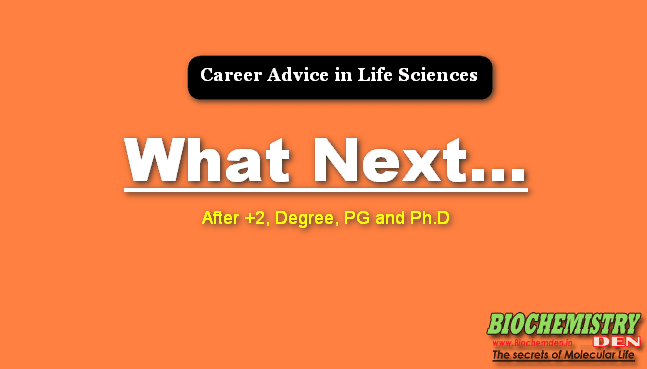 On the level of high school we all know that we can choose biology as a major. In B.Sc., You can do B.Sc. in life sciences (Biotechnology, Biology, Biochemistry etc). On M.Sc. level there is range of course are available (Botany, Zoology, Biochemistry, Bio-info etc.). After M.Sc. you can do PhD on a particular aspect of biology.
After PhD you can do some job or can go for Postdoc Research as an independent researchers. After post doc you can get good job in private sector or in public sector. There is huge amount of money is available for a good and experienced researchers and leaders. So this is a typical pipeline for career advice in Life sciences.
If you are a B.tech students then you can go for M.Tech and then PhD or you can go directly to PhD rest is same.
This thing are not easy as written here, there are lots of competitions on each level. Competition exams, Interviews, Research proposals, Publications, recommendations good institutes etc. are the main thing which will decide your career growth.
If you are a high school or B.Sc. student then these words could scared you but you have to face on every level of your progress. So what should be the planning? We discussed these things many time in our group and we proposed a framework.
Career Advice for +2 Students or High School Kids:
Strong your English :- Vocabulary, Grammar Comprehension etc. Communicate in English.
Super Strong your mathematics, Computer, biology and chemistry.
Prepare for getting admission in a B.Sc. or B.tech course. We would recommend to go for Five year integrated program like Center for Converging Technologies, University of Rajasthan, Jaipur.
IIT-Jee. For B.Tech in Biotech or IISER Five year Integrated.
Can apply directly to abroad for B.Sc. (Chance of financial aid is rare on UG level).
Apply for Science Olympiads, KVPY and summer research by CSIR or DBT
Career Advice for B.Sc. Students (Young and Eager Mind of India):
Start writing in English. Try to write your concepts. Present yourself in English in front of hundreds of students.
Get command of Biology, Chemistry and Mathematics, advanced statistics software.
Learn JAVA, C, My SQL, MATLAB, MS Excel :- Get command
Be preparing for M.Sc. admissions.
If you want to go abroad for master, then prepare for GRE TOEFL
and other requirements,
Try to learn some molecular biology and biochemistry techniques. Learn Design of Experiment and how to get statically significant results.
Apply for summer research fellowship by NCBS, IISC, IAS, JNCASR, NBRC, NCCS etc.
Major Entrance exams:- JNU-Biotech, IISC integrated PhD, NBRC integrated PhD, IIT JAM, JNCASR integrated PhD.
Consult your whole syllabus with the note of international course. Use Wikipedia.org to solve initial understanding.
Career Advice For M.Sc. Students (Next Generation of Science Leaders):
Everything in English
Get in depth knowledge of Biology,
Read reviews and research articles, solve questions paper from top universities.
Get extra command on Programming and advanced statistics.
If you want to go abroad for your PhD, then start making a good research proposal. Take some idea from ongoing research in top universities or institutes. We prepare for GRE TOEFL and subject GRE (Many schools requires it)
If you would like to do PhD in India, then be ready to crack CSIR, DBT, ICMR JRF, and GATE
IISC entrance, NCBC Entrance, NII entrance etc.
Prepared to face the interviews by top scientist of the India.
Don't think about any job just after you M.Sc. it is not the proper time for earning something. Just complete your PhD, then think about it.
Get six-month training during your M.Sc. in any research institute and try to get a small publication. If you have a publication on your master level, it will greatly influence your growth.
Start the interaction with professors, so they can give your recommendation in near future.
Career Advice for PhD Students (Next Generation Lamplighter):
In India there are many good institutes which offer good PhD. You can find it here. For admission to this institute you have to face the typical admission procedure of these institutes.
Select a good institute based on the facility, faculty, and publications (in high-impact factor journals). You must have access to Good Laboratory Equipment, Your project must be relevant to current day science, and Adequate funding for your project, High-Speed Internet Connection, All the desired software, Online and Offline access to scientific literature, Your guide must have good publication related to your project.
If you have a JRF, then you will get a mount of (12000+HRA) per month during your PhD. Buy a IBM laptop (2 GB RAM) and laser printer. Create a collection of articles, reviews, and books.
Try to concentrate on publish some work in a high impact factor journal which can be highly cited in future year. If you are in a lab which already has highly cited papers then it will good for you progress.
You can apply for various fellowship like DAAD, Common Wealth, Royal Society, UKIERI, Erasmus Munds etc.
Learn techniques which you can use in your postdoc project. Try to write your postdoctoral project before two year.
After a good PhD with some good publication you can go for Postdoc research in India or abroad. The thing is that, if you go abroad on this stage probably you won't be able to come back to work in India. Because on international level the PhD students from these top Indian institutes are getting good response and values. you can understand the things.
Useful Links for Career Advice in Life Sciences:
Resources for career advice in life sciences
Best of luck