Biochemistry is a compilation from both the medical and pure science fields and is a standard textbook for students from disciplines such as Dentistry, Life Sciences, and Veterinary Studies.
Biochemistry By U.Satyanarayana & U. Chakrapani ebook
---
The book, Biochemistry, is divided into seven separate sections. The first section is labeled Chemical Constituents of Life. Beginning with elements like Carbohydrates and Proteins, the section goes on to explain the different types of cells, talking about the nucleus, then the mitochondria (energy storing sections) and so on. Biochemistry explains the working of enzymes and vitamins clearly. Different kinds of enzymes, their mechanisms and catalysis are covered in this book.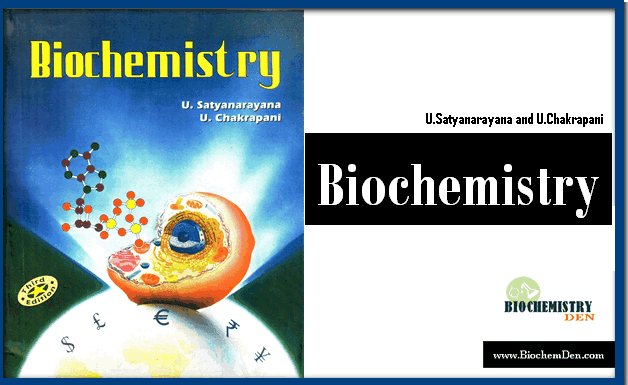 Every enzyme has its own effects, as well as the steps to control synthesis. All this is explained exhaustively in this book. Vitamins and how they are absorbed into the body, along with detailed chemical structures are also discussed.
The body's metabolism is also covered in Biochemistry, with the emphasis being laid on the metabolism of different components of food, such as amino acids, carbohydrates, vitamins, and minerals. Under the Clinical Biochemistry section, there is comprehensive information regarding hormones, how they function and what the mechanisms are that trigger their production.
Molecular biology is also discussed in Biochemistry. There are explanations of both DNA and RNA, beginning from basic structure and composition to covering important properties and subjects such as splicing and repair.
Current topics that are pertinent to the present day advancement of cell biology are also covered adequately, with Biochemistry giving readers information regarding the Genome Project, human gene therapy and the detailed accounts of cancer and AIDS, right from how they are caused and their symptoms and natural course, to what has been done thus far in the world in terms of their prevention and/or cure.
Biochemistry by U.satyanarayana includes multicolored illustrations and subheadings for each chapter. The book has been revised and updated with the latest advancements in the field. The origin of different words related to Biochemistry is also included in the book.
About The Authors:
Dr. U. Satyanarayana is a professor and author.
Dr. U. Satyanarayana is a Fellow of the National Academy of Clinical Biochemistry and The Institution of Chemists. He has been teaching Biochemistry for over thirty years now, to students from medical, biochemical, dental and pure science backgrounds. He received a gold medal from Nagpur University and has received numerous awards on various levels for his significant contributions, both in teaching and in biochemical research. Biochemistry by U.satyanarayana is one of the famous book written by Dr.U.Satyanarayana.
Dr. U. Chakrapani is a doctor and author.
Dr. U. Chakrapani has completed both his M.B.B.S. and M.S. and is Dr. U. Satyanarayana's son. He has contributed largely to this book in terms of proofreading, writing, and verification. Dr. Chakrapani has a post-graduate degree in Medical Faculty, after which the third edition has come out with him as full-fledged co-author, being responsible for the chapters dealing with human biochemistry and the clinical aspects of health and disease.
Table of Contents
Biochemistry by U.Satyanarayana has included in this table of content.
Section I: Chemical Constituents Of Life
1. Biomolecules And The Cell
2. Carbohydrates
3. Lipids
4. Proteins And Amino Acids
5. Nucleic Acids And Nucleotides
6. Enzymes
7. Vitamins
Section II: Physiological Biochemistry
8. Digestion And Absorption
9. Plasma Proteins
10. Hemoglobin And Porphyrins
11. Biological Oxidation
Section III: Metabolisms
12. Introduction To Metabolism
13. Metabolism Of Carbohydrates
14. Metabolism Of Lipids
15. Metabolism Of Amino Acids
16. Integration Of Metabolism
17. Metabolism Of Nucleotides
18. Mineral Metabolism
Section IV: Clinical Biochemistry And Nutrition
19. Hormones
20. Organ Function Tests
21. Water, Electrolyte And Acid-Base Balance
22. Tissue Proteins And Body Fluids
23. Nutrition
Section V: Molecular Biology And Biotechnology
24. DNA-Replication, Recombination, And Repair
25. Transcription And Translation
26. Regulation Of Gene Expression
27. Recombinant DNA And Biotechnology
Section VI: Current Topics
28. Human Genome Project
29. Gene Therapy
30. Bioinformatics
31. Metabolism Of Xenobiotics (Detoxification)
32. Prostaglandins And Related Compounds
33. Biological Membranes And Transport
34. Free Radicals And Antioxidants
35. Environmental Biochemistry
36. Insulin, Glucose Homeostasis, And Diabetes Mellitus
37. Cancer
38. Acquired Immunodeficiency Syndrome (AIDS)
Section VII: Basics To Learn Biochemistry
39. Introduction To Bioorganic Chemistry
40. Overview Of Biophysical Chemistry
41. Tools Of Biochemistry
42. Immunology
43. Genetics
---
Get this recommended book at a low price
Get the discount 15% to 24%
Limited copies only
Buy Now
Buy Now