This is the continuation of the article "Carbohydrates MCQ Online Examination- Part 1" Welcome to Biochemistry MCQ (Multiple Choice Questions) examinations zone. These questions are designed based on the Topic "Carbohydrates".
Recently I have posted one article on Carbohydrates and Biochemistry video lecture also. Before going to start this test please verify my previous biochemistry study materials in this blog.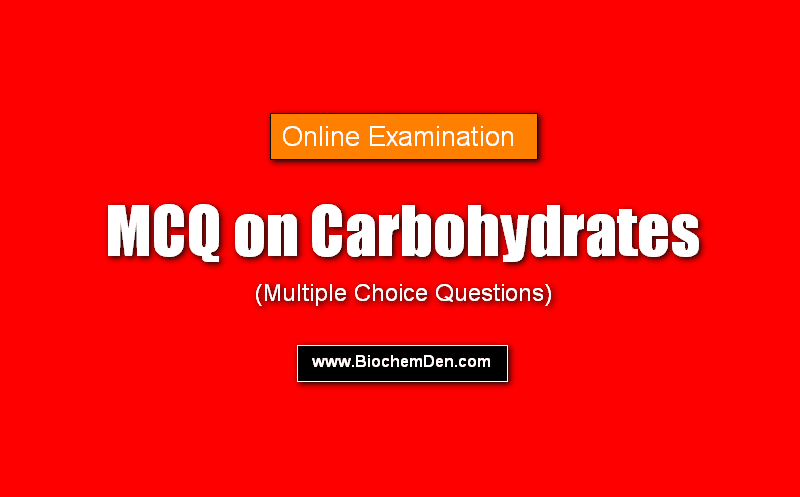 Multiple-choice Questions (MCQ). Just press the Start button to answer the questions one by one and get the score.
Carbohydrates MCQs
---
1. Which of these compounds is unable to undergo Mutarotation?
A Glucose
B Maltose
C Lactose
D. Sucrose
2. Barfoed's is a test for the presence of
A Fructose only
B Disaccharides
C Starch
D. Monosaccharides
3. Human beings don't have the enzymes necessary for the hydrolysis of the β-1,4-O-glycosidic linkage between molecules of glucose. That is why we can not digest this compound and it is part of some laxatives.
A. Cellulose
B Glycogen
C Amylose
D Amylopectin
4. The pentose sugar is present mainly in the heart muscle
A. Lyxose
B Ribose
C Arabinose
D Xylose
5. Two sugars which differ from one another only in configuration around a single carbon atom are termed
A. Epimers
B Anomers
C Optical isomers
D Stereoisomers
6. The most important epimer of glucose is
A. Galactose
B Fructose
C Arabinose
D Xylose
7. The carbohydrate of the blood group substance is
A Sucrose
B. Fucose
C Arabinose
D Maltose
8. Sugar alcohol is
A. Mannitol
B Trehalose
C Xylulose
D Arabinose
9. Which of the following is a non-reducing sugar?
A Isomaltose
B Maltose
C Lactose
D. Trehalose
10. Which of the following is a heteroglycan?
A Dextrins
B. Agar
C Inulin
D Chitin
11. Osazones are not formed with the
A Glucose
B Fructose
C. Sucrose
D Lactose
12. Maltose can be formed by the hydrolysis of
A Starch
B Dextrins
C Glycogen
D. All the of the given
13. A carbohydrate is commonly known as DEXTROSE
A Dextrin
B D-Fructose
C. D-Glucose
D Glycogen
14. Iodine gives RED color with
A Starch
B. Glycogen
C Inulin
D Dextrin
15. The highest concentration of fructose is found in
A Aqueous humor
B Vitreous humor
C Synovial fluid
D. Seminal Fluid
16. Glucose uptake by liver cells is
A Energy-consuming
B A Saturable process
C Insulin dependent
D. Insulin independent
17. Mucopolysaccharides are
A Homopolysaccharides
B. Heteropolysaccharides
C Proteins
D Amino acids
18. The distinguishing test between monosaccharides and disaccharides is
A Bial's test
B Selwanoff's test
C. Barfoed's test
D Hydrolysis test
19. Iodine solution produces no color with
A. Cellulose
B Starch
C Dextrin
D Glycogen
20. A carbohydrate found in milk is
A Glucose
B Galactose
C. Lactose
D Maltose
21. The predominant form of Glucose in solution is
A Acyclic form
B Hydrated acyclic form
C Glucofuranose
D. Glucopyranose
22. The smallest monosaccharide having furanose ring structure is
A Erythrose
B. Ribose
C Glucose
D Fructose
23. Which of the following is an epimeric pair?
A Glucose and Fructose
B. Glucose and Galactose
C Galactose and Mannose
D Lactose and Maltose
24. Hyaluronic acid is found in
A. Joints
B Brain
C Abdomen
D Mouth
Explanation: Hyaluronic acid is the ground substance of the synovial fluid of joints. it serves as a lubricant and shock absorbent in joints.
25. Tautomerization is
A. Shift of hydrogen
B Shift of carbon
C Shift of both carbon and hydrogen
D No change in the mechanism